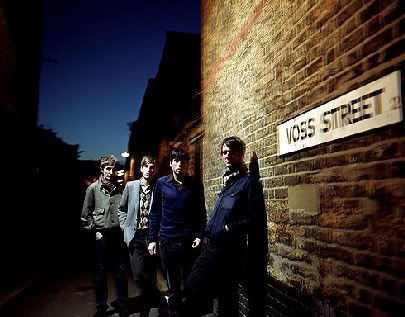 ::: the rakes



lo de the rakes ya tenía que caer por su propio peso, tres singles de notable factura y que mostraban diversas variables respecto del otro -strasbourg, 22 grand job, retreat- eran el preámbulo a algo mucho mayor, un disco que se hizo esperar desde mediados del año pasado, cuando lanzaron la espectacular, furiosa, potente y cambiante strasbourg (una de las mejores 10 canciones del 2004 para mí); además hay que mencionar la energía y variedad de sensaciones que desplegaban en sus conciertos, al respecto drowned in sound dice: "their live experience is, by turns, chaotic, funny, charming, silly, serious, beautiful, moving, aggressive, effeminate, sublime and ridiculous".


el legado post-punk se deja notar claramente en casi todo el disco, las atmósferas creadas por el grupo remiten a the stranglers, pil, gang of four, wire y claro, joy division. the rakes se mueve con soltura en esos ambientes, no necesita aplicarle maquillaje a la nostalgia de su sonido, más bien potencia las cualidades exhibidas por todos los grupos mencionados anteriormente, como los inicios de the stranglers en el single retreat. en pocas palabras, la banda de londres captura la esencia de toda esa época para crearse un sonido genuinamente propio, sin negar lo evidente de sus influencias.


en capture/release (2005, v2), the rakes se mueve entre el punk más contundente que haya (strasbourg, the guilt, violent), crescendos tan envolventes como potentes (t bone, 22 grand job), lentas y monótonas temas con un trasfondo más darkie, como open book, terror!, we are all animals, binary love), y temas que combinan un poco todo lo mencionado anteriormente (retreat, work, work, work); capture/release es un disco que no destilará originalidad, pero si mucha personalidad; definitivamente un conciso y claro debut. playlouder lo resume mejor: "capture/release is an album that sounds very much like now, but it should way transcend it too".


esta es la clase de discos que uno espera escuchar para sacarse toda la modorra de encima; dificlmente capture/release no estará entre mis 10 mejores álbumes del presente año.


más información:
http://www.therakes.co.uk/