en e radio ahora sí retomamos con fuerza nuestra actividad de difundir gran parte de lo que pasa en el mundo de la música -en todos sus niveles y variantes- y, coincidiendo con el fin del verano austral y el invierno anglosajón, presentaremos poco a poco muchas de las cosas que sonaron en mi cabeza a inicios de año. y como aquí -no como ciertos pasquines tercemundistas- no le damos vueltas a lo mismo, estaremos con muchas más novedades que en el 2005.

cada nuevo álbum de lilys -proyecto de kurt heasley es una sorpresa, y everything wrong is imaginary (31.01.06, manifesto) no es la excepción, desde su primer disco in the presence of nothing (1992), hasta este octavo esfuerzo. the night over san juan, uno de los temas de su nuevo disco, es el más alto ingreso esta semana.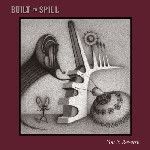 5 años después de ancient melodies of the future, built to spill vuelve a lanzar nuevo material. you in reverse se llama su nuevo trabajo -a salir el 11 de abril-, más tranquilo pero manteniendo el sonido de siempre. la banda de idaho sigue en carrera y su tema goin' against your mind ya está en el puesto 3.

desde el 27.03.2006 es el nuevo single de editors: all sparks.


50-morrissey- you have killed me
49-the flaming lips- the w.a.n.d.
48-sidonie- fascinado
47-tom vek- c-c (you set the fire in me)
46-the lashes- the stupid stupid
45-she wants revenge- red flags and long nights
44-liars- drums get a climpse
43-buzzcocks- soul survivor
42-isobel campbell & mark lanegan- ramblin' man
41-the notorious b.i.g.- nasty girl
40-editors- all sparks
39-ms. john soda- scan the ways
38-boy kill boy- back again
37-envelopes- sister in love
36-morningwood- nth degree
35-the automatic- recover
34-lindström & prins thomas- boney m down
33-de/vision- the end
32-delays- valentine
31-stereolab- plastic smile
30-the organ- brother
29-the somatics- elemental
28-giant drag- wicked game
27-the like- june gloom
26-johnny boy- 15 minutes
25-the zutons- why don't you give me love
24-graham coxon- don' t let your man know
23-yeah yeah yeahs- gold lion
22-lilys- the night sun over san juan
21-the sunshine underground- comercial breakdown
20-the strokes- heart in a cage
19-sparks- perfume
18-girls aloud- biology
17-indochine- un homme dans la bouche
16-white rose movement- girls in the back
15-the kooks- see the world
15-wonder stuff- blah blah la di dah
14-richard ashcroft- break the night with colour
13-clearlake- good clean fun
12-the electric soft parade- stupid mistakes
12-the research- the way you used to be a smile
11-william orbit- surfin'
10-the knife- silent shout
09-the charlatans- blackened blue eyes
08-de/vision- in dir
07-depeche mode- suffer well
07-new order- turn
06-covenant- ritual noise
05-elefant- lolita
04-the rakes- all too human [+23]
03-built to spill- goin' against your mind
02-the sounds- song with a mission
01-be your own pet- fire department