nuevos ingresos en el radioblog esta semana: tenemos 19 temas de kaito, ellen allien & apparat, chikinki, the essex green, irving, röyksopp (en vivo), mystery jets, j dilla, the on offs, hot chip, humanzi, divine comedy, cam'ron, the longcut, herbert, franz ferdinand, the sunshine underground, the chromatics y his name is alive.


también indico que desde la semana pasada ::: e radio tiene dos nuevas secciones:
::: e radio : noticias: www.radioestacionoticias.blogspot.com (incluye un radioblog retro) y
::: e radio : videos: www.radioestacionvideos.blogspot.com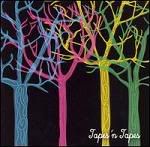 tapes 'n tapes proviene de minneapolis, minesota; su fórmula está regida por el rock más primarioso y salvaje de las primeras épocas del rock n' roll con una justa dosis de personalidad junto a pericia instrumental y rítmica. su disco the loon ya empieza a gustar en las islas británicas. puesto 47 con just drums, tema que abre el mencionado trabajo.


50-the raconteurs- steady as she goes
49-lorraine- i feel it
48-tapes n' tapes- just drums
47-cam'ron- wet wipes
46-cut copy- going nowhere digital
45-every move a picture- signs of life
44-the pipettes- dirty mind
43-fell- data + [backspace] = error
42-psapp- hi
41-the sunshine underground- i ain't losing any sleep
40-young jeezy & christina millian- say i
39-ellen allien and aparat- do not break
38-hot chip- boy from school
37-the essex green- the pride
36-the futureheads- cope
35-the presets- girl and the sea
34-the boyfriends- adult acne
33-richard buttler- broken aeroplanes
32-herbert- those feelings
31-the walkmen- this job is killing me
30-goldfrapp- ride a white horse
29-kasabian- empire [+18]
28-the rifles- local boy
27-eleventh dream day- lately i've been thinking
26-röyksopp- go with the flow (live)
25-his name is alive- mama don't you think i know
24-human television- i laughed
23-keane- it's any wonder
22-the ordinary boys vs lady sovereign- nine 2 five
22-the longcut- a last act of desesperate man
21-manta ray- por qué evadirse a otros mundos más pequeños
20-sonic youth- rats
20-white rose movement- deborah carne
19-kelis- bossy
18-the klaxons- gravity rainbow
18-data panik- cubis (i love you)
17-the rapture- w.a.y.u.h.
16-tunng- the pioneers
16-franz ferdinand- eleanor puts your boots on
15-pretty girls make graves- the number
15-my architects- under the pines
14-matmos- solo buttons for joe meek
13-the vc's- nice place…well take it
13-the boy least likely to- be gentle with me
12-band of horses- wicked gil
11-the divine comedy- to die a virgin
11-coldcut- just for the kick
10-duels- brothers and sisters
09-irving- the preservation of childrens minds
09-the tyde- separate cars
08-gnarls barkley- gone daddy gone
08-kubichek!- taxi
07-radio 4- enemies like this
07-duels- animal
06-irving- jen, nothing matters to me
05-the fiery furnaces- waiting to know to you
04-the egg- walking away
04-every move a picture- on the edge of something beatiful (at 12am)
03-mazarin- another one goes by
03-johnny boy- wall street
02-james figurine- 55566688833
02-the rifles- when i'm alone
01-ellen allien and aparat- leave me alone